Why might a restaurant want more privacy? We can think of a few reasons. If you have a nice eatery in a mall, you might want to cover your windows to give your diners the illusion they are no long in the mall. You might just want to block the view of the passersby rushing around with their purchases, in favor of a more exclusive look and feel on the inside. With restaurant window film, this privacy can easily be attained, along with a great looking window that will add to your décor.
Restaurant window film for privacy can look like frosted or etched glass, colored glass, even stained glass. It can be plain or decorative, let in more light or less, depending on the kind you choose.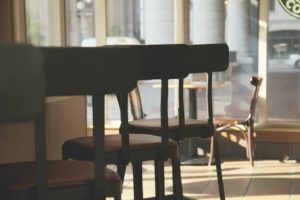 What if you do have an expensive and exclusive restaurant or supper club. Of course, you will want your interior to reflect your superior food and justify your guests' expense. You don't want your restaurant to look run of the mill. So if your front or side windows open onto a not so great view of a parking lot, a busy street, the on ramp to the highway, or the unappealing side of a brick building, part of the effect you are trying to create will be lost. Restaurant window film of the privacy or decorative type will block that view in an upscale, classy, chic way. It is the perfect solution for restaurant privacy.
Restaurant window film is quick to install, requires no maintenance, is quite affordable, and it can add privacy and style in a unique and pleasing way.
What about your restaurant, dinner club, café, cafeteria, hotel dining area, or any other eatery? Is there one or more windows or doors where you wish you could have more privacy or block the view, but without completely blocking the light? Perhaps you've tried curtains or shades, but they darken the space too much. With all of the various choices in restaurant window film, you can find the perfect product for your needs.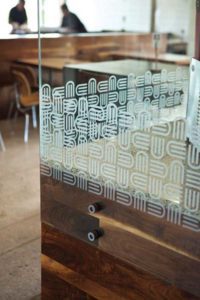 You can use it as a decorative accent on any glass wall, door, window, or partition as well.
Click here to see some of our decorative restaurant window films that can also be used to add privacy where needed.
If you love the look of etched glass, painted glass, mirrored glass, patterned and textured glass, even stained glass, then you will love our selection of restaurant window film options for your eatery.
For more information or a quote for a window film project, please contact Scottish Window Tinting today. We are the area leader in high-performance restaurant window films.